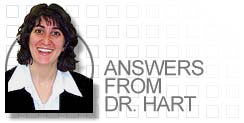 QUESTION: What's the best way to get rid of my problem spots, like my belly and "saddlebags" (outer thighs)? I do crunches, but I am no closer to having a flat stomach.
DR. JACQUELINE HART: If you work out aerobically, like taking a brisk walk for one hour each day, you will lose weight all over your body. This is actually more effective than trying to focus your workout on one isolated "problem" area, like the tire around your middle or your outer thighs. With that said, doing sit-ups and leg lifts in addition to aerobic exercise will help build muscle in those particular areas. Be sure to stretch properly and work the muscles opposite those areas (namely, inner thighs and lower back) to help avoid injury.
QUESTION: I have been walking or jogging 1-2 miles every day for almost two years. Why can't I shed those last few inches?
DR. JACQUELINE HART: It's great that you are so diligent with your exercise. Even though you are no longer losing weight, you are toning your muscles and strengthening your heart.
Now that your weight loss has slowed down, try increasing the intensity of your exercise by walking or jogging faster or going up hills. Add weights to your exercise plan to make you stronger and increase your metabolism. Make sure you also follow the amount of calories you are eating.
QUESTION: I just had a baby and I am trying to get rid of the extra weight I gained while pregnant. How can I lose the weight in a way that will be safe for breastfeeding my baby?
DR. JACQUELINE HART: You gained weight during your pregnancy for a reason -- to nourish yourself and your baby. While breastfeeding, your body needs to use some of that extra fat to produce milk. It is especially important for you to get enough nutrients while breastfeeding because your baby depends on the nutrients that you consume. For this reason, it is not a great idea to actively diet while you are breastfeeding.
Increasing your activity level to try to lose weight is fine, as is eating a well-balanced diet full of healthy nutrients from fruits, vegetables, complex carbohydrates, and lean protein. This is definitely not the time to be restricting calories or following any sort of fad diet.
If you are trying to lose weight when breastfeeding, even through physical activity and a balanced diet, it is best to be supervised by a qualified healthcare practitioner like a dietitian. Also, before exercising, check with your doctor to make sure that enough time has passed since your delivery and that it is safe.
QUESTION: What is liposuction? What are the potential hazards of it?
DR. JACQUELINE HART: Liposuction, also called "lipoplasty" or "suction lipectomy," is a medical procedure in which a surgeon removes fat deposits from the body by first dissolving the fat, then withdrawing it from under the skin. Liposuction is not a substitute for diet and exercise and is used only for people who are already normal weight. It is used to remove small areas of fat from specific areas of the body, such as the back of the arms or buttocks. It is not intended for all-over weight loss.
Though liposuction is usually safe, all surgery carries some risk. Carefully weigh the pros and cons of the surgery before you proceed. Some potential risks include infection, delayed healing, formation of fat clots or blood clots, excessive fluid loss, damage to the skin or nerves, puncture of the vital organs, and side effects from the anesthesia. Some of these may even be life threatening.
QUESTION: Are there any nutritional supplements or herbs that can help me lose weight?
DR. JACQUELINE HART: There has been much controversy about the herb "ephedra" (also known as ma huang), a common ingredient in over-the-counter weight loss products. First of all, the Food and Drug Administration (FDA) has not approved ephedra for that use and has actually issued several warnings about the use of products containing this herb. There have been incidents of stroke, heart attack, abnormal heart rhythm, and even death caused by this substance.
The bottom line is that there is no such thing as a safe and effective dietary supplement that can help you lose weight. The only effective way to lose weight is through improved diet and exercise. There is no way around this important fact -- even with medication or surgery. When it comes to weight loss, there is no quick fix, easy way out, or magic solution, despite our desire for that type of approach.
QUESTION: I have several friends who have lost weight with high protein diets. Do you recommend them? Are they effective and are they healthy?
DR. JACQUELINE HART: There are a couple of important and valuable concepts that high protein diets offer:
Avoid simple carbohydrates, such as white flour found in white bread and pasta, and refined sugars found in cakes and cookies.
Protein is important for feeling satiated (full and satisfied).
However, there are also problems with high protein diets:
High protein foods are often loaded with fat -- for example, meats, eggs, and cheese.
Replacing simple carbohydrates with only protein can be risky to your health, leading to kidney damage and bone loss over the long term.
Liquid protein diets have been associated with sudden cardiac death.
To avoid these problems, simple carbohydrates should be replaced by complex carbohydrates. Look for whole grains and eat plenty of fruits and vegetables. These foods provide fiber and lots of vitamins and minerals, including antioxidants, all of which can help protect your heart and your health. Also, when selecting protein on any eating plan, it is important to eat only lean protein that is low in fat (e.g., fish, beans, and legumes).
---
Review Date: 6/28/2011
Reviewed By: Jeffrey Heit, MD, Internist with special emphasis on preventive health, fitness and nutrition, Philadelphia VA Medical Center, Philadelphia, PA. Review provided by VeriMed Healthcare Network. Also reviewed by David Zieve, MD, MHA, Medical Director, A.D.A.M., Inc.
The information provided herein should not be used during any medical emergency or for the diagnosis or treatment of any medical condition. A licensed medical professional should be consulted for diagnosis and treatment of any and all medical conditions. Links to other sites are provided for information only -- they do not constitute endorsements of those other sites. © 1997- A.D.A.M., a business unit of Ebix, Inc. Any duplication or distribution of the information contained herein is strictly prohibited.