Osteopathy is based on the belief that most diseases are related to problems in the musculoskeletal system and that structure and function of the body are inseparable.
The musculoskeletal system is comprised of the muscles, bones, and soft-tissues like cartilage, tendons, and ligaments. All of these structures are interconnected and form the body's framework. Nerves originating in the spinal cord create an important network throughout the body and are highly connected to the musculoskeletal framework.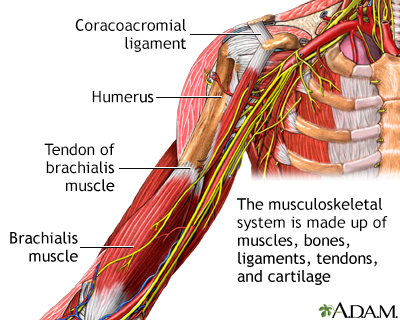 Doctors of osteopathy (D.O.s) receive the same basic training as medical doctors (M.D.s). D.O.s also learn manipulation therapies (hands-on adjustments of muscles, bones, and ligaments), using these in addition to more conventional medical treatments. Most D.O.s are primary care practitioners, specializing in family medicine, internal medicine, obstetrics/gynecology, or pediatrics. A few can be found in other medical specialties as well. D.O.s have full practice rights in all 50 states.
Although osteopathic manipulations were originally intended and used to treat all forms of disease, now they are mainly considered useful for musculoskeletal conditions.
How does osteopathy work?
Long nerves connect the spine to various organs in the body. According to Andrew Taylor Still, the founder of osteopathy, when problems arise in the spine the nerves send abnormal signals to the body's organs. Still called these spinal problems "osteopathic lesions" ("osteo" for bone and "pathic" for diseased), and devised osteopathic manipulation techniques (OMTs) to treat them. Such lesions are detected by the osteopathic doctor from abnormal texture of the skin and other soft tissues of the body as well as from restricted range of motion in the joints.
OMTs range from light pressure on the soft tissues to high-velocity thrusts on the joints. These treatments, he believed, would return the nerves to their normal function and allow the blood to flow freely throughout the circulatory system. Mr. Still theorized that with structure restored, the body's own natural healing powers are then able to restore the entire body to full health.
What happens during a visit to the osteopath?
A visit to a D.O. is much like a visit to your family doctor. The D.O. will ask you questions about your medical history, physical condition, and lifestyle. However, because D.O.s have particular expertise in musculoskeletal systems (namely, bones, joints, and soft tissues like ligaments and tendons), the physical exam of that bodily system will likely be more extensive.
During the physical, the D.O. will assess your posture, spine, and balance; check your joints, muscles, tendons, and ligaments; and may use their hands to manipulate your back, legs, or arms. If needed, the D.O. will order x-rays and laboratory tests.
When the results are in, the D.O. will make a diagnosis and establish a treatment plan for you that may even include prescriptions for medications.
For problems involving the bones, muscles, tendons, tissues, or spine, many (but not all) D.O.s use OMTs. There are two categories of OMT procedures: direct and indirect. In direct OMT, "problem" or "tight" tissues are moved (by the D.O., the person being treated, or both) toward the areas of tightness or restricted movement. In indirect OMT, the D.O. pushes the "tight" tissues away from the area of restricted movement, in the opposite direction of the muscle's resistance. The D.O. holds the tissues in this position until the tight muscle relaxes.
What illnesses and conditions respond well to osteopathy?
OMTs may be effective for back and neck pain. In fact, if you have back pain, you may be able to reduce the amount of pain medication you are taking if you receive OMT as part of your therapy.
Who should not be treated with osteopathy?
You should avoid osteopathic manipulation if you have a broken bone or dislocation, bone cancer, a bone or joint infection, damaged ligaments, rheumatoid arthritis of the neck, or osteoporosis. Osteopathic manipulation is also not recommended for people who recently underwent joint surgery or for people taking an anticoagulant (blood thinning) medication.
Are there risks associated with osteopathy?
Shortly after an OMT treatment you might feel an increase in pain, slight headache, or fatigue. These symptoms are temporary, and generally disappear within a day. More serious adverse events of stroke and spinal injury have been reported following manipulation of the neck; this complication is extremely rare.
How can I find a qualified practitioner?
To locate a licensed D.O. in your area that has been trained in one of the 19 medical schools and 200 teaching hospitals approved by the American Osteopathic Association (AOA), visit the AOA's web site at www.osteopathic.org.
For additional information or referrals, visit the American Academy of Osteopathy web site at www.academyofosteopathy.org, or the American College of Osteopathic Family Physicians web site at www.acofp.org.
---
Review Date: 6/29/2011
Reviewed By: Andrew W. Piasecki, MD, Camden Bone and Joint, LLC, Orthopaedic Surgery/Sports Medicine, Camden, SC. Review provided by VeriMed Healthcare Network. Also reviewed by David Zieve, MD, MHA, Medical Director, A.D.A.M., Inc.
The information provided herein should not be used during any medical emergency or for the diagnosis or treatment of any medical condition. A licensed medical professional should be consulted for diagnosis and treatment of any and all medical conditions. Links to other sites are provided for information only -- they do not constitute endorsements of those other sites. © 1997- A.D.A.M., a business unit of Ebix, Inc. Any duplication or distribution of the information contained herein is strictly prohibited.