| | |
| --- | --- |
| Step 4: How much exercise is enough? | |
The U.S. Surgeon General recommends that everyone should get a moderate amount of physical activity on most, if not all, days of the week. Physical activity is any activity that causes your body to work harder than normal. However, the actual amount of physical activity you need depends on your individual fitness goals, whether you are trying to lose weight, and how fit you currently are.
Here are some more specific guidelines for maintaining heart health and for losing weight.
For heart health
To keep your heart healthy and maintain general fitness, you need to perform cardiovascular exercise (also called aerobic exercise, described more in the next step). This type of exercise gets your heart beating fast over a sustained period of time.
No matter how hard you exercise, your heart has a maximum rate, a limit to how fast it can beat. When you perform aerobic exercise, you want to keep your heart beating at 60 - 80% of its maximum rate -- this is called your target heart zone.
You benefit most when your heart beats in your target zone for at least 30 minutes total per day, for at least 3 days per week. Your target heart zone is high enough to condition your heart, but does not put too much stress on it.
Monitoring your zone
At first, you may only know if you're within your target heart rate by taking your pulse or wearing a heart rate monitor.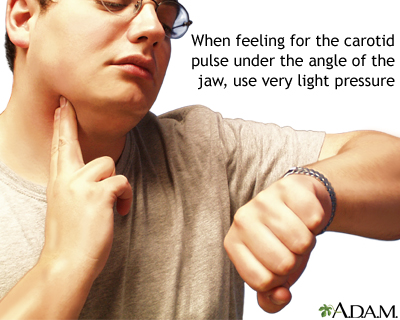 Check carotid pulse
Check radial pulse
As you continue, you should become more familiar with your body's signals. Generally, your body will tell you if you are working too hard. Here are some warning signs that you might be overdoing it:
You feel breathless. (You should be breathing deeply, but you should not have to gasp for air.)
You cannot comfortably carry on a conversation.
You feel weak, dizzy, or lightheaded.
Note: if you have pain or pressure in your chest, neck, shoulder, or arm during exercise that lasts more than 10 minutes, you must stop exercising and see a doctor right away. The concern is that this pain may be caused by too much strain on your heart, which could lead to a heart attack.
Start slowly
Not everyone can exercise within their target zone at first. Remember that some physical activity is better than none. If you are starting from a sedentary lifestyle, any amount of activity or exercise that you do is going to help both your heart and your waistline. If you cannot yet reach your target heart rate, or cannot sustain activity for very long, do what you can. As you get more comfortable exercising, you will improve and be able to work harder and longer.
Losing weight
You lose weight when your caloric expenditure (physical activity) is greater than your caloric intake (food and drinks). If your goal is to lose weight, try to get 60 minutes of physical activity equivalent to brisk walking each day. This does NOT necessarily have to be aerobic exercise. The goal is to burn calories, and you can do that countless ways, such as using the stairs instead of the elevator, parking your car in the farthest parking space, or mowing the lawn or gardening.
If you are doing an activity that takes more effort, like running, then 45 minutes a day should be sufficient. Or if you are doing something that takes about half the effort of brisk walking, like gardening, you'll have to do it twice as long -- 2 hours.
Having trouble doing your exercise all at once? That's no problem. Spread it out throughout the day in 10 minute chunks of activity. Doing this 3 - 6 times per day can still strengthen your heart and burn calories.
---
Review Date: 6/28/2011
Reviewed By: Jeffrey Heit, MD, Internist with special emphasis on preventive health, fitness and nutrition, Philadelphia VA Medical Center, Philadelphia, PA. Review provided by VeriMed Healthcare Network. Also reviewed by David Zieve, MD, MHA, Medical Director, A.D.A.M., Inc.
The information provided herein should not be used during any medical emergency or for the diagnosis or treatment of any medical condition. A licensed medical professional should be consulted for diagnosis and treatment of any and all medical conditions. Links to other sites are provided for information only -- they do not constitute endorsements of those other sites. © 1997- A.D.A.M., a business unit of Ebix, Inc. Any duplication or distribution of the information contained herein is strictly prohibited.