| | |
| --- | --- |
| Step 8: Drugs and insulin | |
You've been working hard on your diet, you've started to exercise and lose weight, but sometimes your blood sugar can still be higher than your doctor wants it to be. Maybe you've only just started to work on lifestyle changes. You are making progress but you may need medication to get your sugar in the safest range. Your doctor will use the results of your hemoglobin A1c test and your own blood sugar tests from home to determine whether to start medicine or insulin.
If you need diabetes pills or insulin, it does not mean that you are a failure or have wasted your efforts to eat right and exercise. With the proper diet and physical activity, you will need less medication to do the job. And medication alone is NOT adequate without proper diet and exercise. Remember that good control of your blood sugars is the goal for you to focus on with your doctor and health care team.
Taking diabetes pills can improve your blood sugar results. These pills are NOT insulin. There are 5 or more types of diabetes pills. Each type lowers your blood sugar in different ways. If you need to take medication, talk to your doctor and pharmacist about the details of your specific drug. For example, get instructions about what time of day to take your medicine and whether you need to take the drug with food or not. Taking your medicine at the same time each day will give you the best and most consistent results.
Sulfonylureas and meglitinides
Examples of these inusln secretagogues are glyburide, glipizide, glimepiride, nateglinide, and repaglinide. (Some are short acting and are taken with meals (such as nateglinide and repaglinide).
These drugs:
Help your pancreas make extra insulin
Are usually well-tolerated and safe
Can cause low blood sugar
Can cause weight gain
Have peaks and valleys -- you may need to snack at the peak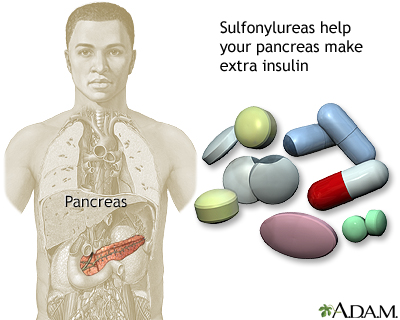 Biguanides
An example is metformin. This medication:
Stops the liver from making extra sugar when it is not needed
Does not cause your body to make more insulin
Rarely causes low blood sugar
Must be taken with food
Should not be taken if you have a loss of kidney function
May need to be stopped temporarily if you are having a special x-ray test (such as a CT scan with contrast dye) or surgery.
Can help with weight control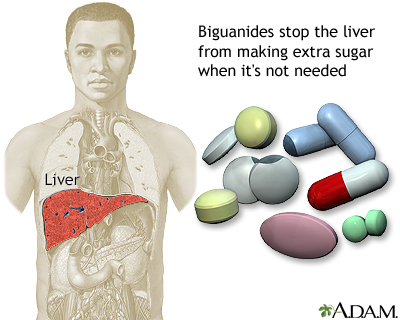 Thiazolidinediones (TZDs)
Examples are pioglitazone and rosiglitazone. These drugs:
Help your body use its own insulin better
Can cause weight gain
May be associated with heart problems
Can cause swelling from water retention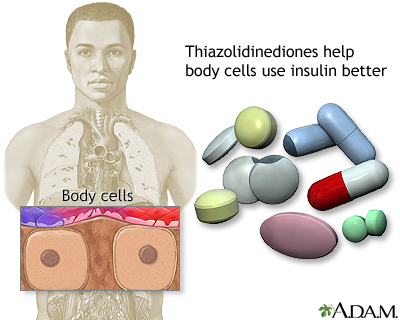 Dipeptidyl peptidase IV antagonists
Also called gliptins, examples of these medicines are sitagliptin and saxagliptin. These drugs:
Help hormones from your intestine(incretins) stimulate insulin release
Usually do not cause weight gain
Usually do not cause low blood sugar
Alpha-glucosidase inhibitors
Examples are acarbose and miglitol. These drugs:
Slow the digestion of starches in your blood
Cause your blood sugar to rise more slowly
Can cause stomach discomfort, bloating, and flatulence (gas)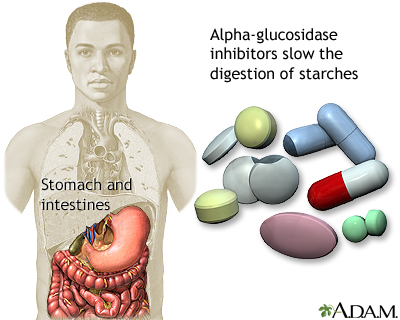 Incretin mimetics
Examples are exenatide and liraglutide. These drugs:
Are taken by injection, like insulin
Behave like hormones produced by your intestine (incretin hormones) that help the pancreas release insulin
Generally do not cause weight gain; may actually promote weight loss
May cause nausea
Rarely, may cause pancreatitis (inflammation of the pancreas)
Insulin injections
Most people want to avoid taking insulin to control their diabetes. However, your doctor might decide to add insulin to your treatment if your hemoglobin A1c is too high. Pills work for a period of time, but with type 2 diabetes, your pancreas may eventuallyno longer be able to make enough insulin. If this happens, your pancreas needs help, and you will be giving yourself insulin shots. About 40% of people with type 2 diabetes will ultimately require insulin injections.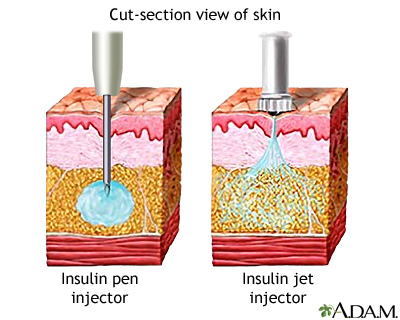 Here are the types of insulin based on how fast they work.
| | | | |
| --- | --- | --- | --- |
| Insulin Type | Begins working in... | Strongest effect in... | Duration |
| Quick acting | 5 - 15 minutes | 1 1/2 - 2 hours | 3 - 5 hours |
| Short acting | 30 - 60 minutes | 3 - 4 hours | 6 - 8 hours |
| Intermediate acting | 30 minutes - 3 hours | 7 - 8 hours | 10 - 16 hours |
| Long acting | 4 - 6 hours | No peak; same effect throughout | 24 - 36 hours |
| Combination mixture | 30 minutes | 2 - 8 hours | 16 - 24 hours |
Your insulin treatment plan
Taking insulin is more complex than taking pills. At first, you may feel overwhelmed by the process or all the different information. Your doctor or diabetes educator (generally a nurse or a registered dietitian) will teach you the skills you need. It is important for you to actively participate in planning your treatment. Some of the topics that you will learn about are:
When to give the injections
How to prepare the needle
How and where to inject the insulin
How to store insulin
How often you will need to take insulin
How fast the insulin you take works
How long your insulin lasts in your body
How to avoid low blood sugars
How exercise affects your insulin dose
How to plan your meals and snacks
What to do if you are ill
Travel and vacation strategies
Insulin pens and pumps
Insulin is a way of taking better care of yourself. Remember that with better blood sugar control you will feel better, decrease your risk of diabetes complications, and improve the quality of your life.
---
Review Date: 7/8/2012
Reviewed By: Nancy J. Rennert, MD, Chief of Endocrinology & Diabetes, Norwalk Hospital, Associate Clinical Professor of Medicine, Yale University School of Medicine, New Haven, CT. Review provided by VeriMed Healthcare Network. Previoulsy reviewed by Ari S. Eckman, MD, Division of Endocrinology and Metabolism, Johns Hopkins School of Medicine, Baltimore, MD. Review provided by VeriMed Healthcare Network. (5/13/2010)
The information provided herein should not be used during any medical emergency or for the diagnosis or treatment of any medical condition. A licensed medical professional should be consulted for diagnosis and treatment of any and all medical conditions. Links to other sites are provided for information only -- they do not constitute endorsements of those other sites. © 1997- A.D.A.M., a business unit of Ebix, Inc. Any duplication or distribution of the information contained herein is strictly prohibited.