| | |
| --- | --- |
| Step 3: How do you know if you have diabetes? | |
Like many others with type 2 diabetes, you may have NO symptoms. Or, you may have very mild symptoms that develop so gradually that you don't even notice them. Because of this, screening blood tests to detect diabetes and pre-diabetes are recommended at least every 3 years for people who are 45 or more years old, and for people who are under 45 and are overweight or who have another risk factor for diabetes.
Sometimes the following symptoms will occur:
Frequent urination, especially at night
Excessive thirst
Blurred vision or sudden vision changes
Feeling very tired much of the time
Being hungrier than usual
Unexplained weight loss
Sores that are slow to heal
More infections than usual, such as urinary tract infections
Itchy, very dry skin
How is diabetes diagnosed?
Diabetes is diagnosed if the levels of glucose in your blood are too high. Your doctor can test your blood and tell if you have diabetes. There are several tests, including:
Fasting plasma glucose test -- this is the simplest and fastest way to measure blood glucose and diagnose diabetes. Fasting means that you have had nothing to eat or drink (except water) for 8 - 12 hours before the test. You are diagnosed with diabetes if your blood glucose level is 126 mg/dl or greater on two separate tests.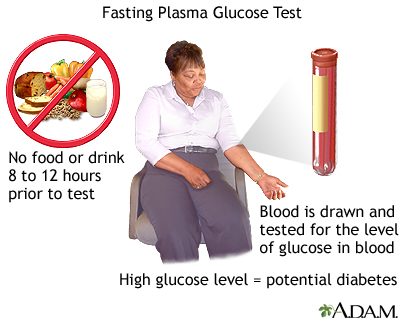 Oral glucose tolerance test -- your blood glucose is tested two hours after drinking 75 grams of glucose. You are diagnosed with diabetes if your blood glucose level is 200 mg/dl or greater. This test is commonly used to screen for diabetes during pregnancy, although different blood glucose values are used to diagnose diabetes during pregnancy.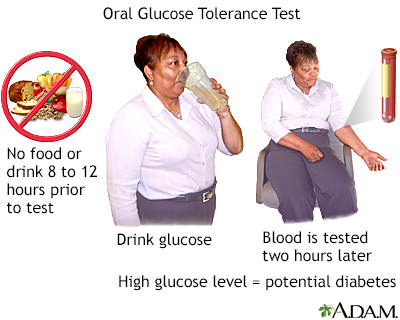 Glycated hemoglobin -- also known as hemoglobin A1c, or HbA1c. This is a form of hemoglobin (a protein in red blood cells that carries oxygen) used to identify the average plasma glucose level in your blood over prolonged periods of time, usually the average blood sugar over the 3 months prior to the test. You can be diagnosed with diabetes if your HbA1c is greater than 6.5%.
You may have already been told that you have type 2 diabetes or you may suspect that you do. Tell your doctor about your symptoms and get tested. You can then start on the road to better health!
Do you have pre-diabetes?
Before people develop diabetes, they almost always have pre-diabetes. Today, more than 57 million adults in the U.S. have pre-diabetes -- and may already have blood glucose levels high enough to begin causing long-term damage to the body, especially to the heart and to the blood vessels. If the result of your fasting plasma glucose test is 100 - 125 mg/dl, the result of your oral glucose tolerance test is 140 - 199 mg/dl, or if your HbA1c is between 5.7% and 6.4%, you have pre-diabetes.
Many people with pre-diabetes will develop diabetes, and are at higher risk for heart disease, unless they make lifestyle changes like losing weight. A loss of just 5 - 10% of total body weight can make a big difference.
If you have pre-diabetes, therefore, follow the same lifestyle recommendations as someone with diabetes. Such changes may keep you from developing diabetes and protect your heart. You also need to get your fasting blood sugar tested every 1 - 2 years, or more frequently, to see if diabetes has developed.
| | |
| --- | --- |
| | |
---
Review Date: 5/13/2010
Reviewed By: Ari S. Eckman, MD, Division of Endocrinology and Metabolism, Johns Hopkins School of Medicine, Baltimore, MD. Review provided by VeriMed Healthcare Network. Previoulsy reviewed by A.D.A.M. Editorial Team: David Zieve, MD, MHA, and David R. Eltz (7/8/2009).
The information provided herein should not be used during any medical emergency or for the diagnosis or treatment of any medical condition. A licensed medical professional should be consulted for diagnosis and treatment of any and all medical conditions. Links to other sites are provided for information only -- they do not constitute endorsements of those other sites. © 1997- A.D.A.M., a business unit of Ebix, Inc. Any duplication or distribution of the information contained herein is strictly prohibited.