If you have diabetes, you should wear or carry I.D. information (such as an alert bracelet) that emergency medical staff can find. You should always carry a sugar source, such as glucose tablets or raisins.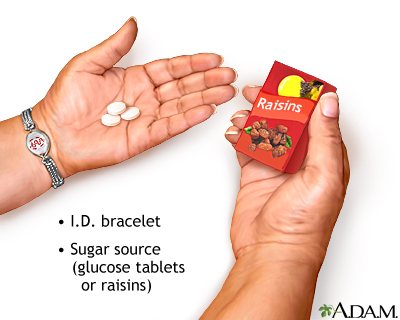 High ketones
For people with type 1 diabetes or type 2 diabetes for over 10 years, it is possible for diabetic ketoacidosis to occur. you can use a simple urine test available at pharmacies to check for ketones. Perform this test every 4-6 hours if blood sugar goes above 240 mg/dL, or any time you are sick, unusually thirsty, have a dry mouth, are urinating frequently, or have vomited. Warning signs that ketoacidosis is getting serious:
Flushed face
Dry skin and mouth
Nausea or vomiting
Stomach pain
Deep, rapid breathing
Fruity breath odor

If these symptoms occur, call the doctor or go to the emergency room right away. If left untreated, this condition will lead to coma and even death.
Dangerously low blood sugar (Severe hypoglycemia)
Low blood sugar can occur when you use too much insulin, exercise too hard or for too long, or have not eaten enough food. It can develop quickly. Symptoms of low blood sugar typically appear when the sugar level falls below 70 mg/dL. Watch for:
Weakness
Shaking
Sweating
Headache
Nervousness
Hunger

You MUST be monitored closely. If symptoms become worse -- confusion, seizures, or unconsciousness -- someone should call 911 immediately, and if a glucagon injecction is available it should be given by a trained person.
If you have a blood sugar test kit available, do a blood sugar check. If the level is low, eat something with sugar: fruit juice, several teaspoons of sugar, a cup of skim milk, or regular soda. If you don't have a test kit handy, sugar should be eaten anyway -- it can't hurt. Symptoms should subside within 15 minutes. If the symptoms don't subside, eat more sugar and test your sugar level again. (See Step 9: Treat Low Blood Sugar.)
AFTER the symptoms subside, more substantial food can be eaten. Use simple sugar FIRST to get the situation under control. Real food won't produce enough sugar and takes too long to digest.
Your doctor may want you to have a glucagon kit for emergencies. Consult your doctor about who should learn how to inject glucagon in the event that you have a severe hypoglycemic reaction. If you have glucagon stored at home for emergencies, your doctor may want everyone in your home to know how to use it. Periodically remind everyone how to use it, and check the expiration date.
Glucagon works very fast -- usually within 15 minutes.
---
Review Date: 7/8/2012
Reviewed By: Nancy J. Rennert, MD, Chief of Endocrinology & Diabetes, Norwalk Hospital, Associate Clinical Professor of Medicine, Yale University School of Medicine, New Haven, CT. Review provided by VeriMed Healthcare Network. Previoulsy reviewed by Ari S. Eckman, MD, Division of Endocrinology and Metabolism, Johns Hopkins School of Medicine, Baltimore, MD. Review provided by VeriMed Healthcare Network. (5/13/2010)
The information provided herein should not be used during any medical emergency or for the diagnosis or treatment of any medical condition. A licensed medical professional should be consulted for diagnosis and treatment of any and all medical conditions. Links to other sites are provided for information only -- they do not constitute endorsements of those other sites. © 1997- A.D.A.M., a business unit of Ebix, Inc. Any duplication or distribution of the information contained herein is strictly prohibited.