| | |
| --- | --- |
| Step 6: Maintain healthy habits | |
There are steps that everyone can take to help prevent heart disease and heart attack. Here's the bottom line:
Choose foods low in saturated fat.
Exercise regularly.
Lose weight if you are overweight.
Get routine health checkups and cholesterol screenings.
If your cholesterol levels are high, these recommendations are very important steps for bringing your cholesterol under control. (And if your cholesterol levels are ok now -- congratulations! But these steps still help prevent heart disease down the road.)
We know that it can be tough to make changes to your lifestyle. Below are some guidelines for building healthy habits.
Choose foods low in saturated fat
Food labels are one of the best tools for eating healthy. For lowering cholesterol, pay particular attention to these items on the label:
Total fat
Saturated fat
Cholesterol
Calories
Of these, the most important by far is saturated fat. (Calories are important for weight control, which is described later in this step.)
On the food label, look at the column called "%DV". This stands for "Percent Daily Value." As an example, if the food label for a candy bar says "60%" next to saturated fat, that means you are getting 60% of that day's entire recommended allowance of saturated fat in just one serving of that candy bar. Keep track of what you eat over the day, and try to stay below a total of 100%.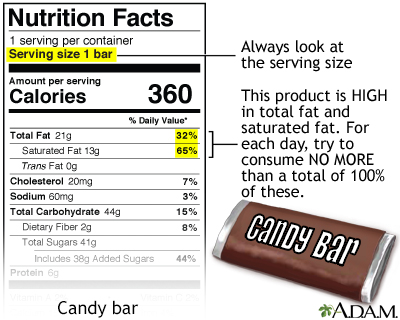 Here are some other considerations about food labels:
When looking at food labels, pay very close attention to serving size. These can fool you. At first glance, you might conclude that eating the whole candy bar gives you 60% of your daily saturated fat -- but upon closer inspection of the food label, you can see that in this example a serving is actually half of the candy bar. If you eat the whole candy bar, you have now consumed over 100% of recommended saturated fat for the day. (60% x 2 = 120%). In other words, the most important thing to look at on a food label is the serving size. This way, you can understand how much you are eating and the nutrition facts for that portion.
The U.S. government came up with the percent daily value (%DV) as a simple way to show nutrients in food items. The %DV is based on a 2,000 calorie per day diet. However, keep in mind that your individual weight and health risks make a difference in what you can or should eat. You may need to eat more or less than 2,000 calories a day depending on your weight.
To follow a low-fat diet, choose products that are less than 20% DV for toal fat per serving. Choose products that are less than 5% DV for saturated fat.
Choose products that list 0g trans fats.
Each day, your total fat, cholesterol, and sodium should not go over 100%. In contrast, your total of vitamins, fiber, and protein should be at least 100% each day.
More tips for healthy eating
Choose lean, protein-rich foods such as soy, fish, skinless chicken, very lean meat, and fat free or 1% dairy products. Substitute soy protein for animal protein in your diet, particularly if you already have high cholesterol.
Eat foods that are naturally low in fat, like whole grains, fruits, and vegetables. Eating lots of fruits and vegetables (at least 5 servings per day) provides fiber and other important nutrients, including B vitamins, minerals, and antioxidants (like vitamin E, vitamin C, selenium, and beta-carotene).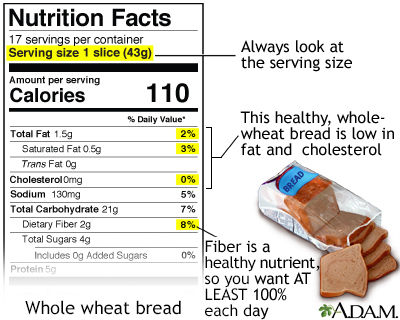 Increase soluble fiber in your diet by selecting foods like oats, bran, dry peas, beans, cereal, and rice. Fiber may also give you a sense of fullness so that you don't eat as much, making weight loss somewhat easier.
Choose trans-fat free margarines. Margarines made from plant sterols or stanols may be particularly useful for those who already have high cholesterol.
Foods rich in omega-3 fatty acids may reduce triglycerides, raise HDL levels, and reduce your risk of heart disease. Such food sources include cold-water fish (including wild salmon, tuna, and mackerel), fish oils, flaxseed and flaxseed oil, canola oil, soybean oil, and nuts (especially walnuts and almonds).
Folic acid, also called vitamin B9, may help lower the risk of heart disease in those with high cholesterol.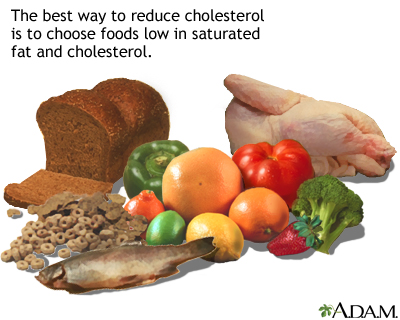 Foods to avoid
Limit your consumption of fried foods, processed foods, and commercially prepared baked goods (such as donuts, cookies, and crackers)
Limit animal products like egg yolks, cheeses, whole milk, cream, ice cream, and fatty meats. These are all high in saturated fats.
Look on food labels for words like "hydrogenated" or "partially hydrogenated" -- these foods are loaded with saturated fats and trans-fatty acids, and you should avoid them.
Exercise regularly
You knew regular physical activity was good for you, but did you know that it helps keep your cholesterol levels healthy? It can actually help raise HDL (good) cholesterol and lower total and LDL (bad) cholesterol. Try to exercise at least 30 minutes on most days. Exercising also helps you lose weight, lowers your blood pressure, strengthens your heart and blood vessels, and reduces stress.
Start your exercise program slowly. Work to build your endurance up to 60 minutes a day. In the beginning, splitting it up into 20-minute segments may work best. Consider joining a health club, YMCA, or other exercise group to help you stay motivated.
You should check with your health care provider for exercise suggestions appropriate for you.
Try:
Walking
Dancing
Swimming
Gardening
Bicycling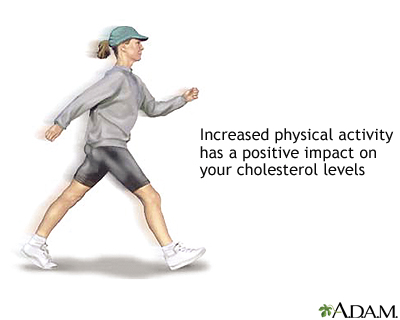 Lose excess weight
Overweight people tend to have higher cholesterol levels than people who maintain a healthy weight. Losing weight can help to lower your LDL cholesterol. For people who have multiple risk factors for heart disease (such as high cholesterol, diabetes, and high blood pressure), losing weight is especially important.
For people with large waists (35 inches or more in women; 40 inches or more in men) losing weight is important. When excess weight is concentrated in the abdominal area, your risk for cardiovascular disease, diabetes, and high blood pressure increases significantly.
The healthiest and longest-lasting weight loss happens slowly, by losing 1 - 2 pounds a week. If you cut 500 calories a day by eating less or burn an additional 500 calories per day by increasing your physical activity, you should lose 1 pound (equal to about 3,500 calories) a week.
Check with your health care provider for weight-loss recommendations. Losing 10% of your weight may improve your cholesterol levels. (For example, if you weigh 200 pounds, dropping 20 pounds can help your cholesterol.)
---
Review Date: 12/31/2012
Reviewed By: Glenn Gandelman, MD, MPH, FACC Assistant Clinical Professor of Medicine at New York Medical College; Private Practice specializing in Cardiovascular Disease in Greenwich, CT. Review provided by VeriMed Healthcare Network.
The information provided herein should not be used during any medical emergency or for the diagnosis or treatment of any medical condition. A licensed medical professional should be consulted for diagnosis and treatment of any and all medical conditions. Links to other sites are provided for information only -- they do not constitute endorsements of those other sites. © 1997- A.D.A.M., a business unit of Ebix, Inc. Any duplication or distribution of the information contained herein is strictly prohibited.