| | |
| --- | --- |
| Step 5: Cholesterol screening and testing | |
Starting at age 20, everyone should have their cholesterol checked at least every 5 years. Children and teens who have a family history of early heart disease or high cholesterol (total cholesterol above 240 mg/dL) should be screened sooner.
A fasting lipid profile (also called lipoprotein profile) is a detailed blood test for cholesterol. You will need to fast for 9 - 12 hours prior to the test. This test includes:
LDL level -- this is the "bad" cholesterol that sticks to your arteries and can cause blockage.
HDL level -- this is the "good" cholesterol that helps to prevent build up in your arteries.
Triglyceride level -- this is another type of fat in your blood that can lead to atherosclerosis.
Total cholesterol
The lipid profile will be done by drawing a blood sample from your arm and will then be sent to a laboratory for analysis.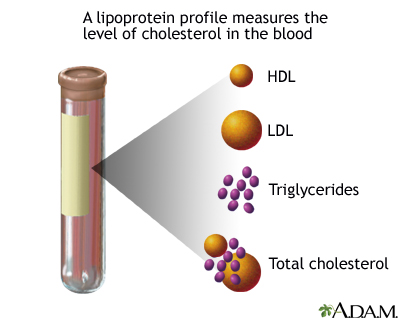 For initial screening, your doctor may take a blood sample even if you have not fasted. In this case, the doctor will look at only the total and HDL cholesterols. If the total is 200 mg/dL (or above) or the HDL is below 40 mg/dL, the doctor will also order a fasting lipid profile.
The following charts will help you understand what your blood results mean. Keep in mind, though, that your underlying risk for heart disease is what gives these numbers their significance. Virtually all cholesterol levels should be treated for those at the highest risk.
The term "high" cholesterol generally refers to having high total or high LDL levels. Remember, your LDL level is usually the one doctors are most concerned about.
LDL cholesterol levels -- bad cholesterol
According to the National Heart, Lung, and Blood Institute, your LDL cholesterol level is a better indicator of your risk for a heart attack and stroke than total cholesterol. The lower your LDL, the lower your risk for heart disease or stroke. LDL cholesterol less than 100 mg/dL (or less than 70 mg/dL in some cases) is considered optimal. For some people with LDL levels below 100 mg/dL, statin drugs (used to lower cholesterol) may still be very useful for preventing heart disease. Virtually all cholesterol levels benefit from treatment in those who are at the highest risk for heart disease. If you already have heart disease plus another strong risk factor for heart problems, like diabetes, current cigarette smoking, poorly controlled high blood pressure, or the metabolic syndrome (high triglycerides, low HDL cholesterol, and obesity), you should strive to bring your LDL cholesterol below 70 mg/dL.
Women who are at high risk for heart disease should lower their LDL cholesterol below 70 mg/dL, recommends the American Heart Association.
Treatment recommendations for high cholesterol are based on your LDL levels and whether or not you already have heart disease or any risk factors for heart disease. Some people can lower their LDL by making basic diet and lifestyle changes. These changes include:
Eating less saturated fat and cholesterol
Following a weight management program
Increasing physical activity
Other people will need medication to lower their LDL level, as explained in Step 7, Cholesterol-lowering drugs.
HDL Cholesterol Levels -- "Good Cholesterol"
Women tend to have better HDL cholesterol than men. In general, an increased risk for heart disease, including heart attack, occurs when the HDL level is less than 40mg/dL. More specifically, men are at particular risk if their HDL is below 37 mg/dL and women if their HDL is below 47 mg/dL.
| | |
| --- | --- |
| | HDL Cholesterol Levels |
| Bad - major risk for heart disease | Less than 40 mg/dL |
| Good - protects against heart disease | 60mg/dL and above |
Triglyceride levels
High triglyceride levels may also be associated with a higher risk for heart disease and stroke. This is especially true because people with high triglycerides often have other conditions, such as diabetes and obesity, that increase the likelihood of developing cardiovascular disease.
| | |
| --- | --- |
| | Triglyceride Levels |
| Normal | Less than 150 mg/dL |
| Borderline High | 150-199 mg/dL |
| High | 200-499 mg/dL |
| Very High | 500 mg/dL or above |
Total blood cholesterol levels
In general, the lower your total cholesterol the better.
Total Cholesterol Level
Treatment Recommendations
Desirable
below 190 to 200 mg/dL

Your risk for a heart attack is low, unless you have other risk factors.
You should still eat foods low in saturated fat and cholesterol, and maintain an adequate level of physical activity.
Have your cholesterol rechecked in 5 years or sooner for men over 45 and women over 55.

Borderline High Risk
200 to 239 mg/dL

People who fall in this borderline range need to be followed closely.
Recheck in 1-2 years if you have no other risk factors for heart disease and your HDL is greater than 40mg/dL.
Recheck sooner if you have risk factors, including if HDL is less than 40 mg/dL.
Limit foods high in saturated fat and cholesterol.
Keep physically active.

High Risk
240 or higher mg/dL

You are at a high risk for a heart attack and stroke.
Discuss your treatment options and lifestyle changes with your health care provider.
Limit saturated fats and cholesterol in your diet.
Increase your level of physical activity.
Take any prescribed medicines consistently.
Have additional tests, if needed.
Emerging risk factors for coronary artery disease
Your health care provider may soon be using other screening tests for coronary artery disease to guide treatment:
Total-to-HDL ratio -- This may be more predictive of heart risk than total or LDL cholesterol values.
Non-HDL ration -- Total cholesterol minus HDL
Lipoprotein a -- This is linked to higher levels of LDL.
Small, dense LDL -- The worst kind of LDL
Apolipoproteins -- Because the amount of cholesterol varies in LDL and HDL particles, measuring the apolipoproteins directly may be a better indicator of risk.
---
Review Date: 12/31/2012
Reviewed By: Glenn Gandelman, MD, MPH, FACC Assistant Clinical Professor of Medicine at New York Medical College; Private Practice specializing in Cardiovascular Disease in Greenwich, CT. Review provided by VeriMed Healthcare Network.
The information provided herein should not be used during any medical emergency or for the diagnosis or treatment of any medical condition. A licensed medical professional should be consulted for diagnosis and treatment of any and all medical conditions. Links to other sites are provided for information only -- they do not constitute endorsements of those other sites. © 1997- A.D.A.M., a business unit of Ebix, Inc. Any duplication or distribution of the information contained herein is strictly prohibited.