| | |
| --- | --- |
| Step 8: Post-surgical nutrition | |
Bariatric surgery may help you meet your weight loss, health, and lifestyle goals. However, once you've undergone bariatric surgery, you'll need to learn some new habits to make sure that you lose weight and keep it off. Remember this is NOT a diet but rather a lifestyle plan and dietary pattern.
Immediately after surgery, you'll be getting fluids through an intravenous line. When tolerated, you'll begin taking small sips of water. If this goes well, you'll be given other liquids while you're still in the hospital.
After you go home, your diet will depend on the type of surgery you had. If you had an adjustable gastric band, you may be on a liquid diet for 1 to 2 weeks, then slowly advance to eat soft foods. After a gastric bypass, you will most likely be on liquids for 1 to 2 weeks, then be advanced slowly to a diet of pureed food. You'll probably leave the hospital on this pureed diet and stay on it for several weeks.
This approach will help you feel satisfied without increasing the risk of food obstruction and vomiting. It will also allow you to have more comfort and less stress as you begin eating at each meal.
Some foods will give you problems, and you will want to avoid them. You may find through experimentation what works best for you. In general, breads and tough meats usually will give you problems. Moistened food is usually best.
Regardless of the type of surgery you've had, you'll need to spend some time with a nutritionist to construct a healthy diet plan. You'll be creating a plan for your new life, therefore it is important to follow it permanently for the sake of protecting your health, losing and weight, and keeping it off.
You'll need to:
Learn about appropriate portion sizes. Learn exactly how much you should eat at every meal, because you don't want to overeat. Overeating can cause vomiting. If you continuously overeat and vomit you can stretch your stomach pouch, which will allow more calories to be taken in and therefore slow or diminish your weight loss. When you begin eating solid food after surgery, you'll probably be able to eat about 1/4 to a 1/2 cup per meal.
Learn how to eat very, very slowly. You may be advised to time yourself, so that you take at least 30 minutes at each meal. You should chew all solid items extremely thoroughly. This will help prevent the opening between the stomach and the intestine from becoming blocked. It will also help you stop eating when you feel full, so that you don't accidentally overeat. You should take your fluids first, eat without added fluids, and wait 60 to 90 minutes after your meal before you start taking fluids again.
Follow a nutritionally sound diet. Your portions will be considerably smaller, and your body may process nutrients differently after surgery. Therefore, make sure that what you eat is highly nutritious. Most nutritionists recommend that bariatric surgery patients follow a low-fat, low-sugar, high-protein diet, consisting of a nutritionally balanced diet program. After having a gastric bypass, you will need to take daily multivitamins, iron, calcium, and vitamin B12 supplements indefinitely. You'll need to be checked regularly to make sure that you aren't deficient in these vitamins and minerals (such as iron) and don't have anemia.
Avoid fats and sugars. Fats and sugars are very high in calories, so they're NOT recommended for anyone who is working to maintain a healthy weight. In fact, if you've had gastric bypass surgery, eating foods that are high in fats or sugars may actually cause a condition called "dumping syndrome." Dumping syndrome will make you feel physically ill, with stomach pain and cramping, vomiting, weakness, shakiness, and sweating.
Be careful with alcohol. Because of the calories in alcohol, regular use can make you gain weight again. After gastric bypass surgery, you will absorb alcohol more quickly than before. you will feel the effects after drinking only a small amount. Even one glass of wine may be too much for you to drive.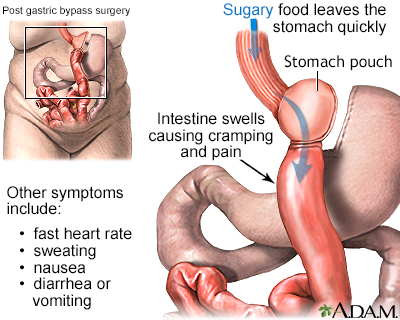 Dumping syndrome occurs when the contents of the stomach empty too quickly into the small intestine after gastric bypass surgery. The partially digested food draws excess fluid into the small intestine causing nausea, cramping, diarrhea, sweating, faintness, and palpitations. Dumping usually occurs after the consumption of too much simple or refined sugar in people who have had surgery to modify or remove all or part of the stomach.
Avoid drinking beverages with meals. Your new stomach pouch will only hold food or drink, but not both! Drink water either half an hour before or after meals, but not with meals. Drinking beverages with meals can the food to empty out of the pouch more quickly. This can make you feel hungry again soon after eating. Instead, drink small sips of water regularly throughout the day. Don't drink large amounts at any one time. Avoid carbonated and sugared beverages, which can make you feel bloated and uncomfortable.
Remember that 80% of all people who have bariatric surgery consider the surgery successful because they are able to meet and maintain their weight and health goals. The 20% who consider the surgery a failure generally have not committed to the lifelong dietary plan and physical activity that are necessary for success.
---
Review Date: 12/16/2012
Reviewed By: Robert A. Cowles, MD, Associate Professor of Surgery, Yale University School of Medicine, New Haven, CT. Review provided by VeriMed Healthcare Network.
The information provided herein should not be used during any medical emergency or for the diagnosis or treatment of any medical condition. A licensed medical professional should be consulted for diagnosis and treatment of any and all medical conditions. Links to other sites are provided for information only -- they do not constitute endorsements of those other sites. © 1997- A.D.A.M., a business unit of Ebix, Inc. Any duplication or distribution of the information contained herein is strictly prohibited.