| | |
| --- | --- |
| Step 3: Treatment overview | |
Treatment of obesity
Many individuals who are morbidly obese have already tried various weight loss methods, including self-driven and commercial programs. If these methods haven't worked for you, it may be time to consult a structured medical weight loss program. These programs usually use a team approach, with care provided by professionals such as physicians, nutritionists, dieticians, exercise trainers, and counselors. These programs:
Evaluate your health
Identify obesity-related complications (such as high blood pressure, diabetes, heart disease) and work to treat them
Help you establish your weight loss goals
Work with you to design a comprehensive weight loss program that usually involves a combination of diet, exercise, and other lifestyle changes as well as psychological counseling and support
Monitor your progress
Help you consider whether you may be a candidate for additional treatment methods, such as medication or weight-loss surgery
Diet
When dieting, your main goal should be to learn new, healthy ways of eating and make them a part of your everyday routine. Work with your physician and nutritionist to set realistic, safe daily calorie counts that assure both weight loss and good nutrition. Remember that if you drop pounds slowly and steadily, you are more likely to keep them off. Your nutritionist can teach you about healthy food choices, appropriate portion sizes, and good methods of food preparation.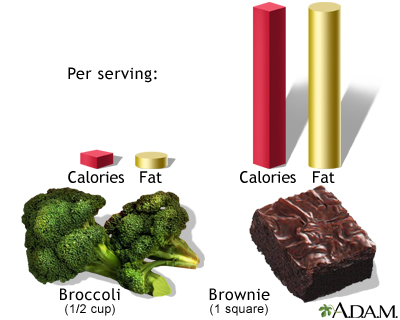 | | | | |
| --- | --- | --- | --- |
| Food | Serving size | Calories | Fat (grams) |
| Broccoli | 1/2 cup | 12 | 0.2 |
| Brownie | 1 square | 160 | 3 |
Exercise
Exercise is a key component to any healthy lifestyle. Exercise can help you lose weight more quickly. It can help control some of the diseases associated with obesity, including high blood pressure, heart disease, diabetes, osteoporosis, and certain cancers. Exercise is also a major mood lifter, a great way to increase energy, and will help strengthen your bones.
It is extremely important to get approval from your doctor for your exercise program before or after your surgery. If you haven't been exercising before your surgery, start slowly. Walking is a great form of exercise. If you have arthritis or bad knees, you might want to start by walking in a swimming pool. Walking in water will help support you until you gain strength and endurance. Start out with just 5 - 10 minutes, and increase your daily time until you are up to 45 - 60 minutes daily.
Remember that your tolerance (and enjoyment) of exercise will increase as you build your stamina. So don't give up, even if the exercise seems daunting at first. You should soon begin to reap its many benefits.
Lifestyle Habits
It's important to look at how your habits may be influencing your weight. Are you watching a lot of television? Inactivity, coupled with snacking in front of the television set, could be contributing to your weight problem. Do you eat when you find yourself emotionally upset or stressed? Learning new ways to address the stress in your life may help you avoid soothing yourself with food.
Several simple behavioral changes can have an impact on your weight loss success:
Eat only at the table. No snacking in front of the TV, in bed, while driving, or while standing in front of the open refrigerator.
Learn about portion sizes. Our "Supersize-It" culture has misled an entire generation about the normal size of a portion.
Consider learning meditation or yoga as a way of managing stress, rather than munching on snacks when the demands of your life begin to overwhelm you.
Find ways to socialize and enjoy your friends and family that don't involve a meal or dessert.
Consider keeping a diet and exercise journal. This may help you identify overeating triggers in your life.
Find a support group or consider psychotherapy to help support you in the difficult but worthy goal of weight loss.
Medication
Despite their best efforts, some people aren't able to lose weight through diet, exercise, and other lifestyle changes. You may wish to talk with your healthcare provider about prescription medication options that may be used to help with weight loss.
Never use over-the-counter or herbal weight loss preparations without first talking to your health care provider.
Surgery
If you have been unable to lose weight through a comprehensive program that includes strict dietary management, physical exercise, other lifestyle changes, or medication, you may be a candidate for weight loss (bariatric) surgery.
To be accepted for weight loss surgery (such as gastric bypass or adjustable gastric band surgery), you need to meet certain criteria. In general, you should:
Be morbidly obese with a BMI of 40 or more with associated complications. This is usually 100 pounds or more overweight. If your BMI is 35 to 40, you may be eligible for surgery if you also have some medical problems, such as diabetes, high blood pressure, sleep apnea, or arthritis.
Be experiencing personal or occupational problems due to obesity.
Have tried unsuccessfully to lose weight through a structured, medical weight loss program that included diet, exercise and lifestyle changes.
Be willing and able to commit to long-term medical follow-up, as well as the rigorous, lifelong changes in eating, exercise, and lifestyle habits that will be necessary to meet and maintain your weight loss and health goals after surgery. Work with your health care team to understand the needed commitments.
Several different types of surgery are available. They involve modifying the stomach and/or intestines in order to decrease the amount of food that an individual can eat. Some procedures help prevent the normal absorption of fat calories.
Bariatric surgery can be an effective long-term method of weight control with established health benefits. Many bariatric surgery patients can lose about up to 50% of their excess weight within 1 to 3 years. While some weight rebound may occur, many patients can keep off much of the weight they've lost after surgery.
In addition, many of the serious health problems associated with obesity improve after weight loss, including diabetes, high blood pressure, sleep apnea, joint pain, and incontinence. Surgery may be associated with its own set of problems, such as infection; poor wound healing, and rarely even death. Therefore, you and your surgeon should carefully discuss the risks of your current health condition compared to the risks and benefits of surgery.
References
Jensen MD. Obesity. In: Goldman L, Schafer AI, eds. Cecil Medicine. 24th ed. Philadelphia, Pa: Saunders Elsevier; 2011:chap 227.
United States Department of Agriculture. Dietary Guidelines for Americans, 2010. Accessed December 16, 2012.
Wadden TA, Volger S, Sarwer DB, et al. A two year randomized trial of obesity treatment in primary care practice. N Engl J Med. 2011;365:1969-1979
---
Review Date: 12/16/2012
Reviewed By: Robert A. Cowles, MD, Associate Professor of Surgery, Yale University School of Medicine, New Haven, CT. Review provided by VeriMed Healthcare Network.
The information provided herein should not be used during any medical emergency or for the diagnosis or treatment of any medical condition. A licensed medical professional should be consulted for diagnosis and treatment of any and all medical conditions. Links to other sites are provided for information only -- they do not constitute endorsements of those other sites. © 1997- A.D.A.M., a business unit of Ebix, Inc. Any duplication or distribution of the information contained herein is strictly prohibited.