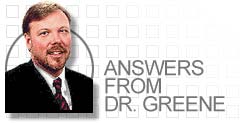 QUESTION:
My son has a moderate allergy condition. His doctor has given him two inhalers to use. The first is called Intal and he is to use it three times daily. The other is Proventil. I believe that this is to be used on an as-needed basis. However, there is some confusion within the family as to when this medication should be used. I have found that on occasion, the Proventil has been used when it may not have been needed. Is the Proventil dangerous when used in this manner? Thank you in advance.
Kevin Destefino -- Greensburg, Pennsylvania
DR. ALAN GREENE:
Asthma is one of the most common disorders affecting children. As many as 10% of children have some degree of asthma, and the number has been rising steadily since about 1980. Thankfully, advances in the diagnosis and treatment of asthma have dramatically improved life for these children. Today most children with properly managed asthma can lead a life unhindered by their disease. It shouldn't hold them back from even the highest levels of athletic competition, as recent Olympic gold medalists have shown.
Having said that, the death rate from asthma increased 46% in the last decade in spite of these treatment advances. A major cause of this increase in mortality is improper use of inhalers. Often children are handed several inhalers and never really understand the different functions and uses of each one.
The goal of asthma therapy is for children to maintain their normal activity levels while free from symptoms such as wheezing, coughing, or breathlessness. The different inhalers that you mentioned, albuterol (Proventil or Ventolin) and cromolyn (Intal) belong to two different classes of asthma medications that work entirely differently. Albuterol (Ventolin or Proventil) works almost instantly to relax the smooth muscles surrounding the airways. It quickly opens the airways and reduces symptoms.
Unfortunately its success is its greatest danger. All too often, children with wheezing will use a Proventil inhaler alone to treat the symptoms. Each time they use a puff of the inhaler they feel better, but all the while the airway lining is swelling and filling with mucus and fluid. Finally the symptoms come back, but the Proventil inhaler is no longer effective since the airway muscles are already as relaxed as they can get. At that point it is too late to relieve the swelling and inflammation -- and the child suffocates.
Cromolyn (Intal) is an anti-inflammatory agent that works slowly to prevent inflammation and swelling. It helps blunt the airways' hyper-responsiveness. It is not useful as an emergency drug.
More recently, the use of medications called "inhaled corticosteroids" has been emphasized. Like Cromolyn, these medications work by preventing inflammation and decreasing the sensitivity of the lungs to inciting agents.
The National Asthma Education and Prevention Program convened an expert panel to propose guidelines for the stepwise management of asthma. Asthma severity is divided into four categories based on frequency of symptoms, including wheezing, cough, shortness of breath, or chest tightness. For older children, pulmonary (lung) function tests can also be used to differentiate the categories.
Severe persistent: Continual symptoms including frequent night symptoms.
Moderate persistent: Symptoms daily and night symptoms greater than 1 night a week.
Mild persistent: Symptoms greater than 2 days a week and night symptoms greater than 2 nights a month.
Intermittent: Symptoms less than or equal to 2 times a week with night symptoms less than or equal to 2 times a month.
Those who fall into the intermittent category do not require any preventative treatments. Those in any of the persistent categories will benefit from preventative therapy such as inhaled steroids. All children with asthma need a written action plan so that you know which medicines to use in which situations.
Regardless of the category of asthma, children should be given a relief medicine, such as albuterol, to treat immediate asthma symptoms. There is no virtue in avoiding treatment with albuterol if your child has symptoms. It is better to go ahead and use the Proventil. However, if the child seems to need this medicine again within 4 hours, contact your health care provider right away. If the child usually needs it more than twice a week, contact your health care provider to see if an additional anti-inflammatory medicine is needed.
For some children, a home peak-flow meter is used to assess the amount of airway obstruction and the amount and type of medications needed. I would recommend this for anyone who is old enough to use a peak flow meter.
I applaud you for recognizing that your son's inhalers serve different functions. All too many families are left with the mistaken understanding that the inhalers are interchangeable. The more you and your son understand about asthma and its treatment the less it will impact his life.
Alan Greene, MD, FAAP, is the author of Raising Baby Green (Wiley Books, 2007), From First Kicks to First Steps (McGraw-Hill, 2004), and The Parent's Complete Guide to Ear Infections (Avon Books, 1997). He is also a co-author of The A.D.A.M. Illustrated Family Health Guide (A.D.A.M., Inc., 2004). He is a Clinical Professor of Pediatrics at the Stanford University School of Medicine.
| | |
| --- | --- |
| | |
---
Review Date: 6/29/2012
Reviewed By: Allen J. Blaivas, DO, Clinical Assistant Professor of Medicine UMDNJ-NJMS, Attending Physician in the Division of Pulmonary, Critical Care, and Sleep Medicine, Department of Veteran Affairs, VA New Jersey Health Care System, East Orange, NJ. Review provided by VeriMed Healthcare Network. Previoulsy reviewed by David A. Kaufman, MD, Section Chief, Pulmonary, Critical Care & Sleep Medicine, Bridgeport Hospital-Yale New Haven Health System, and Assistant Clinical Professor, Yale University School of Medicine, New Haven, CT. Review provided by VeriMed Healthcare Network. (6/1/2010)
The information provided herein should not be used during any medical emergency or for the diagnosis or treatment of any medical condition. A licensed medical professional should be consulted for diagnosis and treatment of any and all medical conditions. Links to other sites are provided for information only -- they do not constitute endorsements of those other sites. © 1997- A.D.A.M., a business unit of Ebix, Inc. Any duplication or distribution of the information contained herein is strictly prohibited.