| | |
| --- | --- |
| Step 4: How asthma is diagnosed | |
To diagnose asthma, the doctor will see if three criteria are met:
You have recurring episodes where your airflow becomes blocked, resulting in at least one of the asthma signs
The blocked airflow can be at least partially reversed through medication (see spirometry, below)
Other potential causes of your symptoms are ruled out
Medical history
The doctor will want to evaluate your medical history to identify what symptoms you have had, when your symptoms occur, and how long they last. The doctor will ask about possible triggers, such as allergens, exercise, or occupational exposure to chemicals. The doctor will also want to know if you have a family history of asthma, allergy, sinusitis, or nasal polyps.
Physical exam
The doctor will conduct a physical exam that focuses on the upper respiratory tract, chest, and skin. The doctor will listen for wheezing and may look for nasal secretions, eczema, and similar allergy-related symptoms.
Lung function tests
Spirometry is the most reliable test for diagnosing asthma. A spirometer is an instrument that measures the maximum volume you can exhale after breathing in as much as you can. The total volume you exhale is called "forced vital capacity," or FVC. The spirometer also measures how much air you breathe out during the first second. (This is referred to as "forced expiratory volume in one second," or FEV1.) In general, the faster you breathe out during the first second of a full exhalation, the better.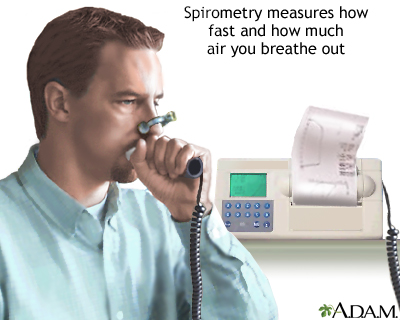 The doctor will take the reading several times. Your FVC and FEV1 results will be compared to what is normally seen in people without asthma. Your doctor will have a good idea just from this data how much "obstruction" is in your airways.
Then, you will be given a bronchodilator, a drug that relaxes the muscles of your airways. After the drug has had time to take effect, you blow into the spirometer again. If you can now breathe out significantly more air this is a strong indication that you have asthma.
Many doctors use a "peak flow meter" to diagnose asthma. This simple, portable device is available in most doctors' offices and may allow a doctor to quickly and easily determine whether asthma is your problem.
Both spirometry and peak flow measurements require you to cooperate during the test. Therefore these tests may not be practical in children younger than 6. (A large number of all cases of asthma begin before age 6). In younger children, lung function can be measured by a technique called forced oscillation, which simply involves breathing vibrating air. Often the diagnosis is based on the medical history and physical exam, perhaps with some other supporting tests.
Other tests
No one single test, or set of tests, is appropriate for every patient. Your doctor may use other tests, such as chest x-rays, to help rule out other causes of your symptoms. The doctor may perform other lung function tests to rule out chronic bronchitis or emphysema (especially if you are a smoker or an older patient).
Sometimes the doctor may believe you have asthma even when your spirometry readings are normal. Your doctor may then perform a test called bronchoprovocation. (This test must be conducted by a trained specialist in an appropriate facility.)
Other tests include chest x-rays, allergy testing, examinations for nasal polyps or sinusitis, and evaluation for gastroesophageal reflux. Results from allergy testing can help support the diagnosis. Treating allergies and sinus problems can help you manage the asthma.
Throat Clearing - An Important Clue?
Might throat-clearing be an overlooked symptom of asthma? Researchers surveyed the parents of over 2,500 3- to 5-year-old children attending daycare on the island of Crete. Among the questions asked: "Does your child have a habit of clearing his or her throat often?" More than 100 parents said yes. Many of those children already had been diagnosed with asthma, but most had not.
When pulmonary function testing was performed on the children believed not to have asthma, the results were enlightening: These children all had mild asthma that had not yet been suspected! And their lung function and throat clearing improved with asthma medicines. The study, published in the April 10, 2003, issue of the New England Journal of Medicine, suggests that throat clearing may be the first sign of asthma in some children. Children with asthma fare better with early diagnosis and early treatment. It might be wise for doctors thinking about asthma to ask parents about throat clearing, and for parents whose children often clear the throat to ask their doctors about asthma testing.
If it is asthma...
If you or your child has asthma or recurrent wheezing, ask your doctor what category of asthma it is. Those with asthma that occurs every once in a while might be managed with occasional use of a short-acting medicine that opens the bronchial tubes, also called a bronchodialator. These medicines are called "short-acting beta-agonists." The most common medicine in this class is albuterol.
Those with asthma symptoms that occur frequently (called mild, moderate, or severe persistent asthma) fare much better if they also receive anti-inflammatory or preventive medicines. Usually, the anti-inflammatory medicine is a steroid inhaler that is used once or twice a day, every day, to prevent episodes of asthma.
One study, though, found that most children with persistent asthma are assumed by doctors and parents to have intermittent asthma. Thus, they miss out on getting the right medicines -- medicines that could actually improve their asthma and result in less albuterol being needed. Classifying your asthma is a conversation you want to have!
If it's not asthma...
According to the National Institutes of Health, "recurring episodes of cough and wheezing are almost always due to asthma in both children and adults." However, there are other possibilities. A certain amount of airway inflammation and narrowing are NORMAL responses to airborne irritants. Recurrent wheezing could come from ongoing exposure to chemical fumes, for example. It's only asthma if the narrowing is out of proportion to the threat to the lungs. And in young adults, "vocal cord dysfunction" can cause symptoms very similar to asthma, such as shortness of breath and wheezing.
Regardless of age, if asthma is ruled out, your doctor will explain other potential causes.
References
National Asthma Education and Prevention Program Expert Panel Report 3: Guidelines for the Diagnosis and Management of Asthma. Rockville, MD. National Heart, Lung, and Blood Institute, US Dept of Health and Human Services; 2007. NIH publications 08-4051.
---
Review Date: 6/29/2012
Reviewed By: Allen J. Blaivas, DO, Clinical Assistant Professor of Medicine UMDNJ-NJMS, Attending Physician in the Division of Pulmonary, Critical Care, and Sleep Medicine, Department of Veteran Affairs, VA New Jersey Health Care System, East Orange, NJ. Review provided by VeriMed Healthcare Network. Previoulsy reviewed by David A. Kaufman, MD, Section Chief, Pulmonary, Critical Care & Sleep Medicine, Bridgeport Hospital-Yale New Haven Health System, and Assistant Clinical Professor, Yale University School of Medicine, New Haven, CT. Review provided by VeriMed Healthcare Network. (6/1/2010)
The information provided herein should not be used during any medical emergency or for the diagnosis or treatment of any medical condition. A licensed medical professional should be consulted for diagnosis and treatment of any and all medical conditions. Links to other sites are provided for information only -- they do not constitute endorsements of those other sites. © 1997- A.D.A.M., a business unit of Ebix, Inc. Any duplication or distribution of the information contained herein is strictly prohibited.