People with asthma should be encouraged to participate in physical activities, exercise, and sports. Nevertheless, exercise can sometimes trigger symptoms in most people with asthma. For some people, exercise is their MAIN trigger. This is called exercise-induced asthma (EIA) or exercise-induced bronchospasm (EIB). Thankfully, having EIA does not mean a person can't or shouldn't exercise. With proper treatment, people with EIA can compete and succeed in sports at the highest levels. In fact, in the 1996 Olympic Games, a much higher proportion of athletes (>16%) had asthma than was found in the general population (7%).
Exercising in cold, dry air is more likely to trigger EIA. Breathing through the nose or wearing a protective scarf or mask can help keep inhaled air warm and moist. Warm-up and cool-down periods can help prevent the abrupt changes that can trigger symptoms.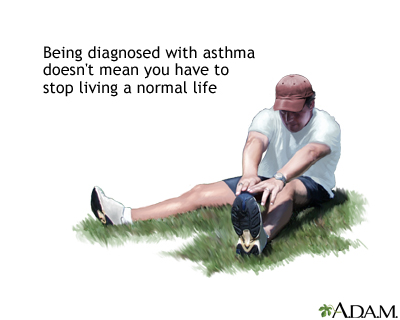 Symptoms and diagnosis
The symptoms of EIA are coughing, wheezing, chest tightness or shortness of breath associated with exercise. Some people with EIA notice symptoms soon after they start exercising. Most, though, have their major symptoms soon after they stop the activity.
Doctors can distinguish between EIA and 'being out of shape' by using spirometry or peak flow testing in response to exercise and to bronchodilator medication.
Pre-treatment before exercising
The key to treating EIA is pre-treatment. By taking medication before exercise, the airway narrowing can be simply and effectively blocked. A variety of medications may be used in EIA. This is a situation where short-acting inhaled beta-agonists (normally called relief or rescue drugs) can be used effectively to prevent or control symptoms. They are usually given 10 - 15 minutes before exercise, and can last up to 4 hours. This can eliminate symptoms in more than 80% of people with EIA.
A lengthy warm-up period may reduce the need for medications.
Inhaled cromolyn can be used daily just before exercise as an alternative, but the effect may last only for an hour or so.
Long-acting inhaled beta-agonists were sometimes used in the treatment of EIA. They are given at least 30 minutes before exercise and can last up to 12 hours. This can be wonderful, in that children can take the medicine before school and still be protected during sports or PE. However, these medicines may become less effective if used daily before exercise. Note: On November 18, 2005, the U.S. Food and Drug Administration (FDA) notified manufacturers of Advair Diskus, Foradil Aerolizer, and Serevent Diskus to update their existing product labels with new warnings and later approved new safety labeling and Medication Guides for patients. This was done to alert health care professionals and patients that these medicines may increase the chance of severe asthma episodes, and death when those episodes occur. All of these products contain long-acting beta2-adrenergic agonists (LABA). Even though LABAs decrease the frequency of asthma episodes, these medicines may make asthma episodes more severe when they occur. A Medication Guide with information about these risks will be given to patients when a prescription for a LABA is filled or refilled. on February 18, 2010, the FDA recommended that long-acting beta-agonists be used only in combination with inhaled steroids for prevention of ashtma symptoms. See the FDA website for more information, at www.fda.gov.
Leukotriene inhibitors may be taken orally before exercise for all day protection, and do not seem to lose their effectiveness.
Comparing sports
Swimming is often considered the sport of choice for people with EIA, because of the warm, humid environment. Sports that involve bursts of activity (football, baseball, etc.) are less likely to trigger EIA than those that demand continuous exertion (soccer, basketball, hockey, etc.). Still, Olympic athletes with asthma often compete in endurance sports. (Read about Olympic runner Jim Ryun.)
With proper treatment and preparation, symptoms should be preventable with any sport. If a single medication is not sufficient, a combination of medicines may be needed.
References
National Asthma Education and Prevention Program Expert Panel Report 3: Guidelines for the Diagnosis and Management of Asthma. Rockville, MD. National Heart, Lung, and Blood Institute, US Dept of Health and Human Services; 2007. NIH publications 08-4051.
---
Review Date: 6/29/2012
Reviewed By: Allen J. Blaivas, DO, Clinical Assistant Professor of Medicine UMDNJ-NJMS, Attending Physician in the Division of Pulmonary, Critical Care, and Sleep Medicine, Department of Veteran Affairs, VA New Jersey Health Care System, East Orange, NJ. Review provided by VeriMed Healthcare Network. Previoulsy reviewed by David A. Kaufman, MD, Section Chief, Pulmonary, Critical Care & Sleep Medicine, Bridgeport Hospital-Yale New Haven Health System, and Assistant Clinical Professor, Yale University School of Medicine, New Haven, CT. Review provided by VeriMed Healthcare Network. (6/1/2010)
The information provided herein should not be used during any medical emergency or for the diagnosis or treatment of any medical condition. A licensed medical professional should be consulted for diagnosis and treatment of any and all medical conditions. Links to other sites are provided for information only -- they do not constitute endorsements of those other sites. © 1997- A.D.A.M., a business unit of Ebix, Inc. Any duplication or distribution of the information contained herein is strictly prohibited.