Immunotherapy is like a vaccination against your allergies. Vaccine shots are to prevent infections; immunotherapy shots are to prevent allergies. However, the two work in opposite ways. Vaccinations prime the immune system to help the body react swiftly if the disease is encountered again, whereas immunotherapy dulls the reaction to allergens.
In the long term, allergy shots can minimize the need for antihistamines or other allergy medications. Immunotherapy builds up your tolerance to specific allergens, so your body won't overreact to them.
Immunotherapy shots are used for most airborne allergens, including tree, grass, and weed pollens, mold spores, dust mites, and animal allergens. Immunotherapy shots can also be used to prevent severe sting reactions from honeybees, yellow jackets, hornets, wasps, or fire ants.
How does it work?
Your allergist will first confirm what you're allergic to with allergy testing. Next, the allergist will inject small amounts of allergens over the course of many months, periodically increasing the amount of allergens injected. After receiving each shot, you will need to stay in the doctor's office for 20 - 30 minutes to see if you react adversely. Also, your allergist will ask you how you felt after getting the previous shot.
The injection schedule depends on the individual. Generally, 1 - 2 shots are given weekly in the beginning during the "buildup" phase. They eventually taper off to monthly "maintenance" shots. For some people, it may take up to 12 months to reach the maintenance dose, depending on how they tolerate the buildup phase.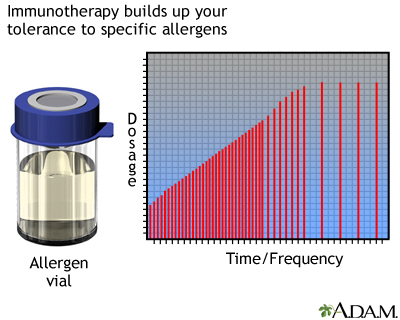 Immunotherapy treatment can last for 3 - 5 years, but you may start feeling relief from symptoms within 6 - 12 months of starting the therapy. After stopping immunotherapy, the benefits can last for more than 3 years.
If you are considering immunotherapy and have not visited an allergist, ask your primary care physician for a referral. Also, if you have health insurance, find out if immunotherapy is covered.
"Everyone in my family has allergies, and we would all get our shots together. It was like a family outing; we would all get our shots, and afterwards we'd get pizza."
-- Sharon, age 29
Who can benefit?
With the advice of your allergist, you can decide if immunotherapy is right for you. Do the benefits of immunotherapy outweigh the time commitment, risks, and costs involved? Consider immunotherapy if:
You do not like the side effects of allergy medication.
Allergy medications have not been effective.
You need multiple allergy medications.
You cannot avoid the allergen in your environment.
You experience allergy symptoms year-round.
Your allergy symptoms interfere with your daily life (e.g., lack of sleep, missing work or school).
Immunotherapy has proven to be effective at reducing symptoms of:
Allergic rhinitis
Allergic conjunctivitis
Allergic asthma
Stinging insect allergy
It may also prevent the development of asthma in children who have allergic rhinitis.
Risks involved with immunotherapy
Since immunotherapy involves the injection of something that you are allergic to, there is a small risk of anaphylaxis for some people. Immunotherapy must be performed in a medical setting, where epinephrine and other emergency allergy treatments are easily accessible -- this minimizes the risk of anaphylactic shock.
| | |
| --- | --- |
| | You should not receive immunotherapy if you are taking beta-blocker medication. Beta-blockers counteract the effects of epinephrine used for emergency treatment of anaphylactic shock. |
You should also not receive immunotherapy if you have:
Certain chronic lung disorders
Uncontrolled asthma
History of recent heart attack or other current heart problems
Uncontrolled hypertension
Kidney or other main organ failure
An immune deficiency: when your immune system does not work properly to protect you from infections
Immunotherapy during pregnancy
Make sure you inform your allergist if you are pregnant. It is not advisable to start immunotherapy shots for the first time during pregnancy. If you become pregnant after you have already started, you may be able to continue if:
You find that immunotherapy reduces your allergy symptoms.
You're not prone to reactions after the shots.
You maintain the same dose during the entire pregnancy.
You should be able to continue immunotherapy while you're breastfeeding.
Reference
Allergen immunotherapy: A practice parameter, Second Update. J Allergy Clin Immunol. September 2007; 120(3).
Brozek JL, Bousquet J, Baena-Cagnani CE, et al. Allergic rhinitis and its impact on asthma (ARIA) guidelines: 2010 revision..J Allergy Clinical Immunology. Sept 2010:126(3);466-76.
---
Review Date: 6/29/2011
Reviewed By: Paula J. Busse, MD, Assistant Professor of Medicine, Division of Clinical Immunology, Mount Sinai School of Medicine, New York, NY, Review provided by VeriMed Healthcare Network. Also reviewed by David Zieve, MD, MHA, Medical Director, A.D.A.M., Inc.
The information provided herein should not be used during any medical emergency or for the diagnosis or treatment of any medical condition. A licensed medical professional should be consulted for diagnosis and treatment of any and all medical conditions. Links to other sites are provided for information only -- they do not constitute endorsements of those other sites. © 1997- A.D.A.M., a business unit of Ebix, Inc. Any duplication or distribution of the information contained herein is strictly prohibited.