Latex products are manufactured from a milky fluid derived from the rubber tree, Hevea brasiliensis. Several chemicals are added to this fluid during the processing and manufacture of commercial latex. Some proteins in latex can cause a range of mild to severe allergic reactions. Currently available methods of measurement do not provide easy or consistent identification of allergy-causing proteins (antigens) and their concentrations. Until well-accepted standardized tests are available, total protein serves as a useful indicator of the exposure of concern. The chemicals added during processing may also cause skin rashes. Several types of synthetic rubber are also referred to as "latex," but these do not release the proteins that cause allergic reactions.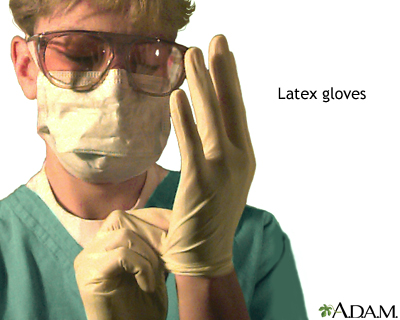 Products containing latex
A wide variety of products contain latex: medical supplies, personal protective equipment, and numerous household objects. Most people who encounter latex products only through their general use in society have no health problems from the use of these products. Workers who repeatedly use latex products are the focus of this alert. The following are examples of products that may contain latex:
Emergency equipment

Blood pressure cuffs
Stethoscopes
Disposable gloves
Oral and nasal airways
Endotracheal tubes
Tourniquets
Intravenous tubing
Syringes
Electrode pads

Protective supplies

Gloves
Surgical masks
Goggles
Dental dams
Rubber aprons

Office supplies

Rubber bands
Erasers

Hospital supplies

Anesthesia masks
Catheters
Wound drains
Injection ports
Rubber tops of multidose vials
Respirators

Household items

Automobile tires
Motorcycle and bicycle handgrips
Carpeting
Swimming goggles
Racquet handles
Shoe soles
Expandable fabric (waistbands)
Dishwashing gloves
Hot water bottles
Condoms
Diaphragms
Balloons
Pacifiers
Baby bottle nipples
Individuals who already have latex allergy should be aware of latex-containing products that may trigger an allergic reaction. Some of the listed products are available in latex-free forms.
Latex in the workplace
Workers in the health care industry (physicians, nurses, dentists, technicians, etc.) are at risk for developing latex allergy because they use latex gloves frequently. Also at risk are workers with less frequent glove use (hairdressers, housekeepers, food service workers, etc.) and workers in industries that manufacture latex products.
"It doesn't interfere too much in my life. I just have to remember to use vinyl gloves, and the hospital where I work doesn't mind if I order them."
-- Michael, age 21
Types of reactions to latex
Three types of reactions can occur in persons using latex products:
Irritant contact dermatitis
Allergic contact dermatitis (delayed hypersensitivity)
Latex allergy
Irritant contact dermatitis
The most common reaction to latex products is irritant contact dermatitis -- the development of dry, itchy, irritated areas on the skin, usually the hands. This reaction is caused by skin irritation from using gloves and possibly by exposure to other workplace products and chemicals. The reaction can also result from repeated hand washing and drying, incomplete hand drying, use of cleaners and sanitizers, and exposure to powders added to the gloves. Irritant contact dermatitis is not a true allergy.
Allergic contact dermatitis (Chemical sensitivity dermatitis)
Allergic contact dermatitis (delayed hypersensitivity, also sometimes called chemical sensitivity dermatitis) results from exposure to chemicals added to latex during harvesting, processing, or manufacturing. These chemicals can cause skin reactions similar to those caused by poison ivy. As with poison ivy, the rash usually begins 24 - 48 hours after contact and may progress to oozing skin blisters or spread away from the area of skin touched by the latex.
Latex allergy
Latex allergy (immediate hypersensitivity) can be a more serious reaction to latex than irritant contact dermatitis or allergic contact dermatitis. Certain proteins in latex may cause sensitization (positive blood or skin test, with or without symptoms). Although the amount of exposure needed to cause sensitization or symptoms is not known, exposures at even very low levels can trigger allergic reactions in some sensitized individuals.
Reactions usually begin within minutes of exposure to latex, but they can occur hours later and can produce various symptoms. Mild reactions to latex involve skin redness, hives, or itching. More severe reactions may involve respiratory symptoms such as runny nose, sneezing, itchy eyes, scratchy throat, and asthma (difficult breathing, coughing spells, and wheezing). Rarely, shock may occur; but a life-threatening reaction is seldom the first sign of latex allergy. Such reactions are similar to those seen in some allergic persons after a bee sting.
Who is at risk?
Workers with ongoing latex exposure are at risk for developing latex allergy. Such workers include health care workers (physicians, nurses, aides, dentists, dental hygienists, operating room employees, laboratory technicians, and hospital housekeeping personnel) who frequently use latex gloves and other latex-containing medical supplies. Workers who use latex gloves less frequently (law enforcement personnel, ambulance attendants, funeral-home workers, fire fighters, painters, gardeners, food service workers, and housekeeping personnel) may also develop latex allergy. Workers in factories where latex products are manufactured or used can also be affected.
Atopic individuals (persons with a tendency to have multiple allergic conditions) are at increased risk for developing latex allergy. Latex allergy is also associated with allergies to certain foods especially avocado, potato, banana, tomato, chestnuts, kiwi fruit, and papaya. People with spina bifida are also at increased risk for latex allergy. People who have had multiple surgeries (spinal reconstruction, for example) are at increased risk.
Diagnosing latex allergy
Latex allergy should be suspected in anyone who develops certain symptoms after latex exposure, including nasal, eye, or sinus irritation; hives; shortness of breath; coughing; wheezing; or unexplained shock. Any exposed worker who experiences these symptoms should be evaluated by a physician, since further exposure could result in a serious allergic reaction. A diagnosis is made by using the results of a medical history, physical examination, and tests.
Taking a complete medical history is the first step in diagnosing latex allergy. In addition, blood tests approved by the Food and Drug Administration (FDA) are available to detect latex antibodies. Other diagnostic tools include a standardized glove-use test or skin tests that involve scratching or pricking the skin through a drop of liquid containing latex proteins. A positive reaction is shown by itching, swelling or redness at the test site. However, no FDA-approved materials are yet available to use in skin testing for latex allergy. Skin testing and glove-use tests should be performed only at medical centers with staff who are experienced and equipped to handle severe reactions.
Testing is also available to diagnose allergic contact dermatitis. In this FDA-approved test, a special patch containing latex additives is applied to the skin and checked over several days. A positive reaction is shown by itching, redness, swelling, or blistering where the patch covered the skin.
Occasionally, tests may fail to confirm a worker who has a true allergy to latex, or tests may suggest latex allergy in a worker with no clinical symptoms. Therefore, test results must be evaluated by a knowledgeable physician.
Treating latex allergy
Once a worker becomes allergic to latex, special precautions are needed to prevent exposures during work as well as during medical or dental care. Certain medications may reduce the allergy symptoms, but complete latex avoidance (though quite difficult) is the most effective approach. Many facilities maintain latex-safe areas for affected patients and workers.
Created by the National Institute of Occupational Safety and Health. Illustration copyright A.D.A.M., Inc.
---
Review Date: 6/29/2011
Reviewed By: Paula J. Busse, MD, Assistant Professor of Medicine, Division of Clinical Immunology, Mount Sinai School of Medicine, New York, NY, Review provided by VeriMed Healthcare Network. Also reviewed by David Zieve, MD, MHA, Medical Director, A.D.A.M., Inc.
The information provided herein should not be used during any medical emergency or for the diagnosis or treatment of any medical condition. A licensed medical professional should be consulted for diagnosis and treatment of any and all medical conditions. Links to other sites are provided for information only -- they do not constitute endorsements of those other sites. © 1997- A.D.A.M., a business unit of Ebix, Inc. Any duplication or distribution of the information contained herein is strictly prohibited.