Gestational Diabetes
About 2 to 5% of all pregnant women will develop gestational diabetes, a type of diabetes that usually occurs only during pregnancy. As with other types of diabetes, the body is unable to properly use glucose, a simple sugar that the body converts to energy. Glucose gets used by all the different cells in the body with the help of the hormone insulin, which is produced by the pancreas.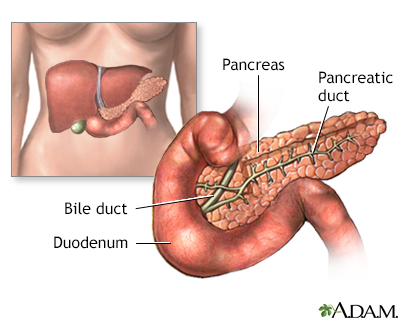 With gestational diabetes, pregnancy hormones limit insulin's ability to do its job. When this happens, glucose builds up in the pregnant woman's blood.
Left unchecked, gestational diabetes can harm both the mother and the fetus. Gestational diabetes can increase the risk of:
Having a very large baby, 10 pounds or more. This condition, called macrosomia, occurs when the fetus is exposed to high blood glucose levels and stores the extra glucose as fat.
Maternal and/or fetal trauma at birth due to the large size of the baby.
Hypoglycemia (low blood sugar) in the newborn.
Jaundice in the newborn. Characterized by a yellowish skin tone, jaundice is associated with a buildup of bile pigment (bilirubin) in the bloodstream.
Pregnancy-related high blood pressure.
Premature delivery.
Birth defects (rare).
Stillbirth (rare).
The good news is that women with gestational diabetes can control their blood glucose levels and greatly minimize the risks.
How Do I Know I Have It?
Gestational diabetes usually starts halfway through the pregnancy. Expect to be screened for the disorder between the 24th and 28th week. You are at a greater risk for gestational diabetes if you:
Are older than 25
Were overweight before the pregnancy*
Have a family history of diabetes*
Had gestational diabetes with another pregnancy
Gave birth to a baby who was very large, had a birth defect, or was stillborn*
Have too much amniotic fluid
Have hypertension*
Have glucosuria (glucose in your urine)*
*If you have these risk factors, you may be tested earlier than 24 weeks for the disease.
Doctors screen pregnant women for gestational diabetes by analyzing the sugar (glucose) content in a blood sample. This test usually does not require any major preparation on your part. You will drink a liquid containing glucose, and one hour later your doctor will draw a sample of your blood.
If this screening test is positive, you will take the glucose tolerance test. You will need to fast for 8 hours prior to the test. Your blood will be drawn one, two, and three hours after drinking a sweet, glucose-rich liquid that tastes like flat cola.
How Can I Treat It?
The keys to managing gestational diabetes are diet and exercise. Your doctor and dietitian will design a diet just for you, based on your:
Calorie needs
Weight
Stage of pregnancy
Baby's growth rate
Women with gestational diabetes do not need to eat a low-carbohydrate or no-carbohydrate diet (175 grams of carbohydrate a day are needed to provide enough glucose for your baby's developing brain), but they do need to spread their carbohydrate intake throughout the day. In general, the diet is low-fat with 45% of your calories coming from carbohydrates and the rest made up of lean protein. You will be advised to eat 3 meals and one or more snacks each day. Expect this diet to change periodically to meet the fluctuating nutritional needs associated with your pregnancy and glucose control.
Your doctor may also design a safe and effective exercise plan, based on your current activity level and health. Physical activity for 30 minutes per day, for a minimum of 3 days per week, is needed to aid with improved glycemic control.
You can see how well you are doing by testing your glucose level several times a day. There are easy ways to test your blood sugar at home. One way involves pricking your finger and putting a drop of your blood on a special strip that turns color. You cross-check the color against a color key to determine your blood sugar level. You can also buy a machine that will give you a more precise digital reading. If you need additional help managing your blood glucose level during pregnancy, your doctor may prescribe insulin. About 10 to 15% of women with gestational diabetes need regular insulin injections.
Your health care team will monitor your pregnancy very closely to make sure your fetus is healthy. You may also have non-stress tests during which an electronic fetal monitor (a machine that hears and displays your baby's heartbeat) is placed on your tummy. The monitor reveals whether your baby's heart rate is increasing in a healthy way in response to movement.
How Can I Prevent?
You can decrease your risk of developing gestational diabetes by:
Exercising regularly
Eating a wide variety of foods from the different food groups
Establishing a healthy weight before your pregnancy
Frequently Asked Questions
Q: If I've had gestational diabetes, am I more likely to develop type II diabetes later in life?
A: Women who have had gestational diabetes do have an increased risk for developing type II diabetes later in life. One study indicated that more than 50% of women who had gestational diabetes developed type II diabetes within 15 years of giving birth, while another study found less than 40% developed the disease. Therefore, it's a good idea to have regular screenings for diabetes if you've had gestational diabetes. Many doctors will recommend that you have an oral glucose tolerance test at your first postpartum visit.
Q: Will my baby be born with diabetes because I had gestational diabetes?
A: Most likely not, though he or she will have an increased risk for diabetes later in life. After the delivery, a doctor will test your baby for low blood sugar. The doctor may give your baby glucose if his blood sugar is too low.
---
Review Date: 12/9/2012
Reviewed By: Irina Burd, MD, PhD, Maternal Fetal Medicine, Johns Hopkins University, Baltimore, MD. Review provided by VeriMed Healthcare Network. Also reviewed by David Zieve, MD, MHA, Isla Ogilvie, PhD, and the A.D.A.M. Editorial team. A.D.A.M. Editorial Update: 06/11/2014
The information provided herein should not be used during any medical emergency or for the diagnosis or treatment of any medical condition. A licensed medical professional should be consulted for diagnosis and treatment of any and all medical conditions. Links to other sites are provided for information only -- they do not constitute endorsements of those other sites. © 1997- A.D.A.M., a business unit of Ebix, Inc. Any duplication or distribution of the information contained herein is strictly prohibited.